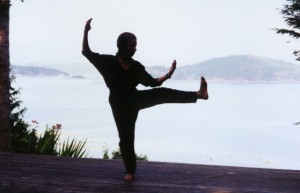 This workshop teaches and reviews the short Yang form of T'ai Chi Ch'uan as taught by Grandmaster Cheng Man-Ch'ing. It is open to all who are interested in learning this superb T'ai Chi form that, even though it is short, is an excellent immersion into the principles and qualities of the art of T'ai Chi Ch'uan.

In this workshop you can begin to learn the principles and movements of the form. You can brush up your lapsed practice and deepen your understandings and meet and share playing T'ai Chi Ch'uan with others. Applications of the form and sensing hands (tui shou) will be introduced.
Tuition: $650.US/Can equivalent. $250 deposit to reserve space in workshop.

Meals and accommodations extra. There are tenting possibilities on Judyth's property and/or bunking spaces in sleeping lofts of the studio. (Students lodging on the t'ai chi property will be asked to also contribute a few hours share-work-fun on the grounds -pulling weeds, etc.- one afternoon during the retreat.)
Please register for this workshop directly with Judyth Weaver: 206-361-4124 (Seattle) or June & July : 250-935-8500 (Cortes), or through this website.
Judyth O. Weaver received authorization to teach T'ai Chi Ch'uan from Grandmaster Cheng Man-Ch'ing's Shr Jung Center for Culture and the Arts in 1971, and has been teaching regularly since then. She has taught throughout the world, always focusing on the authenticity, purity and simplicity of this short Yang form in order to promote self-help, relaxation, and coordination of body, mind and spirit. Judyth created the T'ai Chi Ch'uan program at Naropa Institute (now Naropa University) in Boulder, Colorado in 1974, and headed that program for three years. She gives classes, workshops, and private lessons in Seattle, Washington where she lives, in Mexico in the winter, and on Cortes Island, B.C., Canada during the summers.
Images of Judyth's workshops in Sensory Awareness and T'ai Chi Ch'uan on Cortes Island
This slideshow requires JavaScript.