See below: video of Sensory Awareness Workshop on Cortes Island 2006.
The practice of deeply exploring our sensations, our actions and interactions, can guide us back to our natural resources and lead us to more authenticity and vitality. In this workshop, participants will explore their sensations and responses internally and externally, in relationship with others, with nature and with our human nature. These explorations can bring a trust and security that may assist us in finding the ability and pleasure of responding more sensitively and authentically in our lives. As we find our natural vitality we can relate more fully with others, find peace and satisfaction in our selves, and the ability to extend it further into the world. Time to rest, swim, play, and enjoy beautiful Cortes Island will be an integral part of this workshop.
from July 11-24, 2010
Tuition: $550 US. per week. If registration by June 1st. After June 1st tuition is $600 US. per week. Deposit $200 US.
If you are attending both weeks tuition will be $1100. US.
Meals and accommodations extra.
(There are camping/lodging possibilities on Judyth's property as well as B&B's in the neighborhood and a motel. Please tell Judyth when registering what you would like.)
Register with: Judyth Weaver – 206-361-4124 or [email protected].
After June 15th – 250-935-8500.
Click on the image to view the video.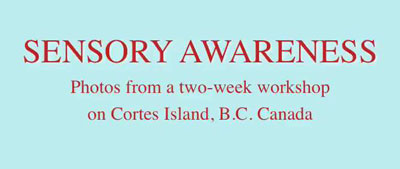 It will open up in a new (pop-up) window. The video will first load (18 megabytes) and then play. You will need a video player that can play MOV (QuickTime) files.