I was asked by the Editor of the USA Body Psychotherapy Journal to write about Eva Reich.  Here are some of my memories of her.
EVA RENATE REICH
April 27, 1924- August 10, 2008
By Judyth Weaver, PhD.
Eva Renate Reich, eldest daughter of Wilhelm Reich and Annie Pink, passed away early the morning of August 10th, 2008.
A dear friend and mentor, at one point, Eva asked me to be her biographer.  We would sit in her warm farmhouse in the evenings and she would tell me stories of her life.  I'd like to share some of them with you.
Born in Vienna, Austria, Eva said she was always a lonely child.  Both her mother and father were always busy.  They traveled a lot and when they were home they worked. Eventually she had a hired caretaker named Mitzi to whom she became very attached. Eva's parents were atheists and Mitzi was catholic.  Mitzi's mother lived across Vienna and she would take Eva on long walks in her pram to visit her mother.  In the cold winter they would stop in churches in order to get warm before they continued their journey.  Eva credits those early experiences for her feelings of being good and safe in churches. "I learned from Mitzi that children were important people and you could always talk to God."   Her atheistic parents could not rid her of this connection.  During difficult times when her parents argued a lot Eva said she would kneel by her bed and pray for them in spite of her father forbidding it. Although later, in school, when the students had to say a prayer to start the day, Eva would secretly make a fist and sing "The Internationale" to herself.
In 1930, Eva and sister Lore were put in a communist home for children. Eva did not like it. She said the food was terrible and insufficient. Eva said she had been educated about sexual matters very early. "I knew where babies came from when I was 3 or 3 1/2, and I had the function of telling the other children." Later on, she also went to what she called a "Gindler School" which she did like. She said they were allowed to crawl under things and over chairs, and she had a very good time. Elsa Gindler, as most of you know, is considered the grandmother of the somatic psychology field. Both of Eva's parents were very influenced by Gindler. Her mother, Annie Pink, studied directly with Gindler and her father, Wilhelm, one might say, studied indirectly, through talking with his friends. Best friend and colleague Otto Fenichel studied with Gindler, having been introduced by his wife, Clare.
Eva contracted diphtheria when she was 5 1/2, and was consequently put in total isolation. As she put it, "isolation again."
In 1929, Eva was left in Vienna while her mother and father went to the Soviet Union. She said when they returned, it seemed to her that they were different people and she felt she didn't even know them.
Grandfather Pink, with whom she and her sister often lived, had a microscope. Eva was very interested in it and he was very pleased at her interest. It seems this was her first connection with science.
Eva was sent to analysis for many years. She said she was severely brainwashed and very confused by the therapy.  The focus was her father being the "bad one." She was told he was insane and she was instructed not to have anything to do with him. She eventually gave in and agreed to the "therapy" and accepted its dogma.
One of the most amazing stories Eva told me about her father is how one day while she, her sister and her mother were living with Grandparents Pink, there was a knock on the door and without any prior announcement Wilhelm Reich was standing at the door dressed as a ski tourist with his backpack. He had walked all the way over the Bohemian mountains in this ski disguise in order to avoid the Nazis just to come and see his daughters before he moved to Denmark.
In 1938 Eva and sister Lore emigrated with their mother to the United States and  lived In New York City. Even on the boat coming over, she was amazed at the abundance of foods such as she had never experienced. She stuffed herself. She said adaptation in New York was difficult… and then the war broke out.
When both parents were finally in New York, although her mother did not want her to have contact with her father, Eva decided she wanted to talk to her father again and have a relationship.  She would ride the subways for one hour, changing three different trains, to visit her father where he lived in Forest Hills.
At the beginning of 1941, when he was interred on Ellis Island, Eva was forbidden to visit him there. She understood later that she also was considered an "enemy alien" and therefore was in danger too.
From this history I am sure you can see what a struggle it was for her to become her own person and decide to have contact with her father and eventually work and study with and assist him in the laboratory. She said, "I believed in my father and his work…Both of us were willing to be soldiers, because it wasn't a war against life, but for life".
Eva says she became a country doctor in rebellion against her parents.
She would tell me how, as a medical student she saw horrid births in hospitals: nitrous oxide given to mothers whether they wanted it or not, episiotomies & etc.; women in labor having their arms tied down and being made to lie flat on their backs; they would arch and hollow their backs expressing great pain. She recalls "seeing things that were totally crazy." As a medical student, once she heard horrible screams and followed them into a room where a woman was alone and birthing her baby by herself. There was no time to call anyone. No one was there. With unwashed hands Eva caught the baby. She was scolded by the administration for doing that.
She also told me that as a resident doctor in the NICU she would make and use small orgone accumulators on the premature infants. It seemed to help them a lot. And that is where she developed her light, orgonomic touch to energize infants that she called "Butterfly Baby Massage."
Eva finished her medical residency in 1951.
In the Handbook of Body Psychotherapy, (Marlock & Weiss, Eds., 2006 Verlag), in the article entitled, "Emotional First Aid",  there are interesting accounts of how as an intern in Philadelphia, Pennsylvania, Eva spontaneously worked with a woman in the hospital in a great deal of pain and on morphine. In just a few sessions of gentle breathing and touch, the woman was assisted in letting out some of her repressed emotions and was greatly helped and able to continue her life. In another account as a country doctor, she worked with a man who, in a great deal of pain, dropped in from the road to her office and she helped him in a very short amount of time.
Eva had a brief first marriage. Her main relationship was with Bill Moise, an artist, whom she met while they were working in her father's laboratory at Orgonon. They married and moved to Hancock, Maine in 1952. They purchased property with a house that was over 150 years old at that time. It is now over 200 years old. No matter how old and what repairs were needed, she always exclaimed about how good the house felt, how it didn't creak because it was made of such good, old lumber.
There was no hospital in the area in which they lived. A retiring M.D. gave Eva his practice and his four medical bags and at age 28 she became a true "family doctor." She was the first female M.D. in the area. She made house calls, did home births, home deaths, etc. Because her husband was an artist working on his own, he was available to drive her to the calls that were at a distance. Eventually a hospital was built in the nearby town, and sometimes, if a birth was potentially difficult, Eva would drive the mother to the hospital's parking lot and help her birth in the car – just in case they needed the hospital facilities. She said to me, "I took a lot of risks in those days."
Eva said she knew she was always watched very closely by the authorities to see if she did anything against their rules.
While Wilhelm Reich was in prison, Eva and Bill moved to Alexandria, Virginia to be near him.
She told of the horrid experience of being informed of her father's death and going to retrieve his body:  On the phone the authority from the penitentiary asked if she wanted to have an autopsy performed and she said "no." They did one anyway. When she walked into the room where his body was, she could see clearly they had done an autopsy-his organs had been pulled out and dropped on the floor. (Usually the organs are put back into the body cavity.) She had to pick them up and clean it all. (Yet another statement of the disrespect to Wilhelm Reich.)
She did not want to be her father's trustor and executor of his will and estate, but he importuned her and she finally agreed to do so. Eva was instrumental in protecting her father's wishes and in providing the first steps for the functioning of The Wilhelm Reich Infant Trust. She was extremely uncomfortable in the role and eventually handed it over in 1959 when Mary Higgins was found to manage the Trust and Orgonon.
Back in rural Maine, Eva plunged herself even more deeply into her private medical practice. She was loved and respected as a country doctor. She applied many of the principles she had learned from her father with good results. She and Bill lived simply and, ahead of their time. They operated a small organic farm and were forerunners in the organic food movement. Eva preached the benefits of natural food, gentle birth, and mother-child bonding long before these ideas were popular at all.
Eva closed her medical practice in 1962. She had had difficulties becoming pregnant. Her daughter, Renata, was born at home in 1960 and after that, Eva suffered several miscarriages. She told me she felt her difficulties were because of the adverse effects from the Oranur Experiment in the early 1950's. She had become ill with radiation sickness from the exposure. After that, she was always hypersensitive to radiation. Even nuclear tests held in other parts of the world affected her daily health.
Eva established a Montessori school in her home for her daughter and other children. She had founded an independent birth control and women's clinic. In 1970, she established mobile birth control clinics for people of all ages that served central and eastern Maine. She had her medical bag and a small travel trailer equipped with an exam table. (This recalls to me the vans that her father had in Austria, which he took into the countryside with sex education and contraceptive information for the people.) Eva's principle was to make her efforts available to all people at low cost or free. Father and daughter, in different cultures and times, had very similar intentions and actions.
After her divorce in 1974, Eva began traveling the world teaching her father's work and her own work that she called "Gentle Bioenergetics." She spread knowledge of the orgone accumulator as well as the special butterfly touch massage therapy for healing trauma in newborns. She gave lectures on orgonomy, gentle birth, breast-feeding, sexuality, organic foods, and baby massage, as well as running therapeutic workshops. She eventually rounded the world 8 times, traveling to 30 countries: in Europe, behind the iron curtain, to Japan, Australia, and South America. Whatever money she earned was soon passed on to support clinics or other peoples' good works. She was very generous and encouraging. At home, she lived simply and economically.
In 1989, at the 4th International congress of Pre- and Perinatal Psychology Association in Amherst, Massachusetts, she presented "Applications of Gentle Bioenergetics Before, During, and After Birth." She was always working for people to have better lives-most especially families and babies. She worked assiduously for the welfare of infants and mothers, and never forgot that fathers were an important part of the picture.
Over the years, Eva influenced many people throughout the world. There are clinics named after her in Europe and South America, a book has been written on how she has influenced others and several documentary videos have been made about Eva and her work. The library at Santa Barbara Graduate Institute (SBGI) is named in honor of Eva Renate Reich.
In 1992, a small stroke encouraged her to retire from so much travel and she returned to live on her farm and involve herself more fully with gardening, skiing, hiking, and canoeing. She lived quietly and close to nature.
In 1999, with Renata as companion, she presented a lecture at the EABP conference in Travemunde. This was the last time for her to travel.
In 2001, New Years Eve going into 2002, Eva slipped on an icy sidewalk and suffered a massive stroke to her spinal column. She was paralyzed in her hands and from the chest down and was not expected to live, but she rallied and surprised everyone with her strength, gumption, and spirit to prevail.
Every time I visited Eva or spoke with her on the phone, she would always exclaim how lucky she was, how Renata was taking such good care of her.
In 2002, USABP awarded Eva a "Lifetime Legacy Recognition" Award "For embodying spirit in your life, in our work, and in the world."  After our conference at Johns Hopkins University, I went to visit Eva and I was able to present the certificate to her at her bedside.  She always kept in on the wall. It is still there.
Even though bedridden, Eva was, until recently, still very involved with the happenings of the world. She had a radio at her bedside and listened to many commentators and news programs late into the night. We had myriad conversations about world issues. Whenever I called, one of her first questions to me would be "And now what are you doing with your work in the world?"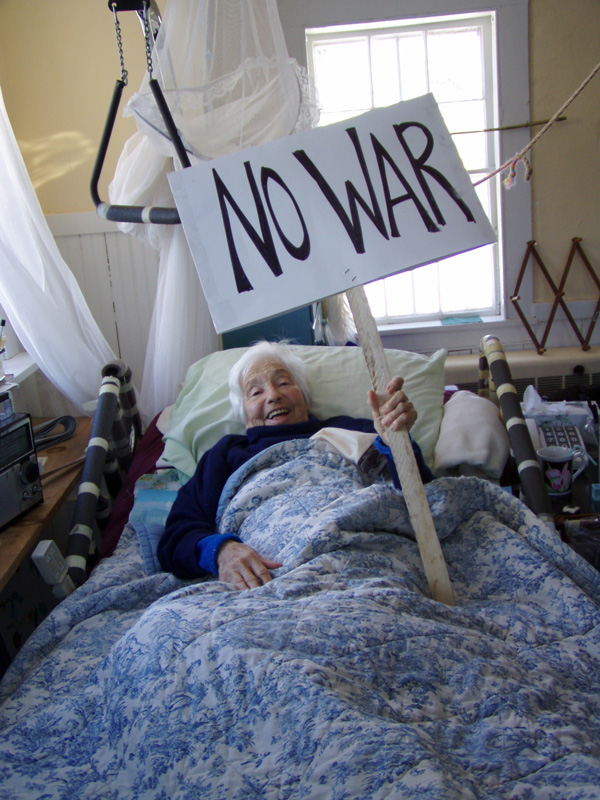 In the Spring of 2003, still so involved with the world's situation, she had a large sign made for her that said "NO WAR," as if she were marching in a peace protest and she had her photo taken holding the sign even though she was lying in bed. That photo was sent to various newspapers in the area, and stories were published with it.
I am very glad to be able to report that Eva's passing was very different from her lonely, early life and the unfortunate death of her father. Her daughter, Renata, took wonderful care of her. Renata, being a nurse and a midwife, really knew how to care for her mother and even created an agency in order to hire other caregivers to support and tend to Eva as needed. Eva would tell me she was taken care of better at the end of her life than at any other time.
On August 10th, an email told us that Eva had passed early that morning. Renata wrote that after her mother passed, they lit a candle in the window and a hummingbird came buzzing.
Eva was honored more in foreign countries than in the U.S. where she was never accepted by her contemporaries because, as she was told, "orgonomy is not a recognized science" and because she did "unusual practices." Her assessment was that she, "had good results with home births and other medical care and nobody complained about my work. As much as they tried they could not find any thing against me."
Eva Renate Reich was an extraordinary person. The somatic therapeutic field has lost a loyal and innovative member.